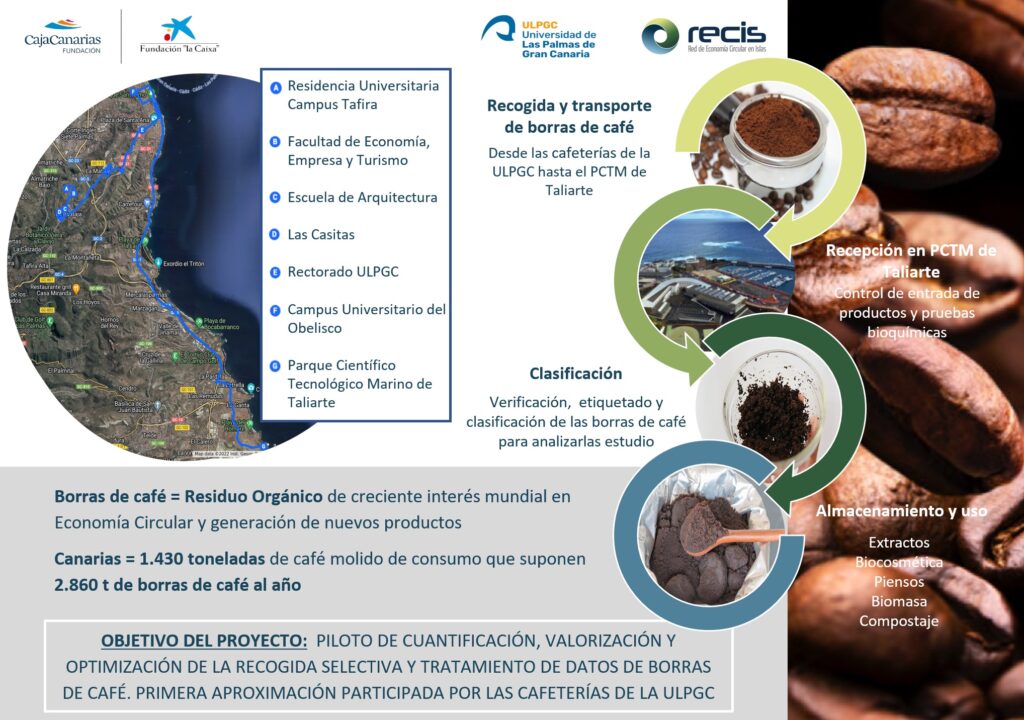 The ISLANDAP ADVANCED project collaborates with the RED RECIS and the BE CIRCULAR project in the first selective collection of coffee grounds from the cafeterias of the University of Las Palmas de Gran Canaria (ULPGC).
The objective of this pilot project is the quantification, valorization and optimization of the selective collection and data processing of coffee grounds, in order to transform this waste into a valuable resource for various uses such as extracts, biocosmetics, feed, biomass , composting, etc
For the first phase, the ULPGC Rector's cafeterias, the Tafira Campus Residence Hall, the Faculty of Economics, Business and Tourism, the School of Architecture, Las Casitas and the Obelisco University Campus have collaborated, to whom we thank them for their collaboration in support of the circularity of the residues.
The coffee grounds are analyzed at the Taliarte Marine Science and Technology Park, where they are verified, labeled and qualified for study.
Coffee grounds are an organic residue of growing global interest in the circular economy and the generation of new products. In the Canary Islands, a consumption of 1,430 tons of ground coffee is calculated, which represents about 2,860 tons of coffee grounds per year.
The Islandap Advanced and Be Circular projects are led by the ULPGC with the aim of creating a multidisciplinary work network (RED RECIS) for the study and dissemination of circular economy solutions to the problems of scarcity of resources and environmental fragility that development presents. of the island territories.
Our coffee bean in support of circularity!