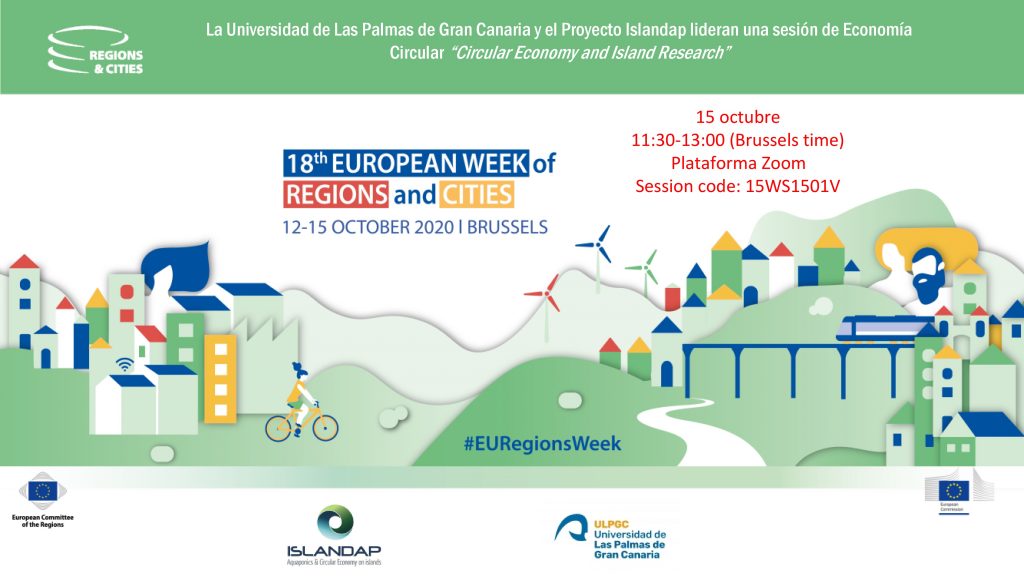 Celebrado con éxito el Workshop de Economía Circular "Circular Economy and Island Research" liderado por la Universidad de Las Palmas de Gran Canaria y el proyecto Islandap, enmarcado en la 18th European Week of Regions and Cities.
La sesión fue celebrada a través de la plataforma Zoom con emisión directa desde Bruselas, y con retransmisión en directo desde la Sala de Piedra del Rectorado de la ULPGC, donde se sumaron los diferentes speakers, y asistieron de forma presencial los investigadores principales de las tres áreas del proyecto; ingeniería doctor Juan Antonio Jiménez, economía doctora Carmen Florido, ciencias del mar doctora Lidia Robaina que a su vez fue speaker durante el evento, y Jaime Cerdán responsable de comunicación del proyecto Islandap, que actuó como moderador del workshop.
El workshop tuvo como objetivo acercar las iniciativas de Economía Circular e investigación de las distintas instituciones y proyectos a la ciudadanía, para conseguir una transferencia y un trabajo colaborativo para mejorar en este ámbito.
El acto contó con la bienvenida  de la Excma. Viceconsejera de Economía e Internacionalización del Gobierno de Canarias,  Almudena Estévez y la Excma. Secretaria Regional de Ambiente, Recursos Naturales y Alteraciones Climáticas, Susana Prada.
El panel de speakers, estuvo compuesto por la participación de representantes de cuatro proyectos:
Proyecto Islandap, speaker Lidia Robaina, profesora e investigadora de la Universidad de Las Palmas de Gran Canaria y el instituto Ecoaqua perteneciente a la misma universidad. Trabaja principalmente en acuicultura, representó  al consorcio Islandap y su continuación Islandap Advanced, además no solo el proyecto sino también la necesidad de colaboración para mejorar las islas.
Proyecto Blueisland, speaker Patricia Arbona, directora insular de Residuos del Consell de Mallorca, implicada en las acciones de residuos y sus objetivo fue visibilizar las acciones del proyecto, tales como la utilización de biorecursos, residuos, economía circular y sus aplicaciones regionales.
Proyecto Weaseabi, speaker Charlotte Jacobsen, profesora en National Food Institute, Technical University of Denmark, grupo de Investigación en Bioactivos – Análisis y Aplicación. Líder de dicho proyecto, que se basa en la Utilización óptima de residuos de mariscos a través del diseño de nuevas líneas de proceso holísticas
Proyecto Madebymade, speaker Charlott-Luise Ochsenfahrt, Project Management cuyo objetivo es contribuir a la sostenibilidad con una economía circular que ahorra recursos mediante la proteína de insecto como fuente alternativa y regional.
La sesión finalizó con una pequeña discusión con preguntas que los participantes lanzaron al chat box del workshop, las conclusiones del mismo fueron muy enriquecedoras para todos los asistentes, y con la finalidad de mejorar y trabajar conjuntamente por la mejora de la sostenibilidad y la economía circular.
En el siguiente enlace puedes volver a visualizar la sesión:
https://euregionsweek2020-video.eu/video/circular-economy-and-island-research